Dr Bronner's Lavender Organic Sugar Soap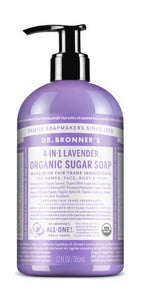 Sweet to the body and planet! Fair trade & organic sugar gives our Organic Pump Soaps a rich caramel color and sweet scent. The sugar combines with organic white grape juice to keep your skin nourished, hydrated and smooth. Organic coconut-olive-hemp oils blend for a creamy castile lather & our soapmaking tradition! Organic hemp oil is now sourced in the U.S. following hemp legalization!
4-in-1 Organic Pump Soaps are good for washing hands, face, body & hair & place by your sink or in the shower! To wash hair work one pump of Organic Pump Soap into wet hair until it lathers, then rub and rinse. Repeat for thicker or longer hair. After washing, follow up with a lightly acidic conditioning rinse, like Dr. Bronner's Citrus Organic Hair Rinse to leave hair silky smooth! Don't have our Organic Hair Rinse? Use diluted apple cider vinegar or lemon juice! OK!
Available in 355ml and 710ml